What do you know about stroke?
Categories

Blog

Date

14 June 2022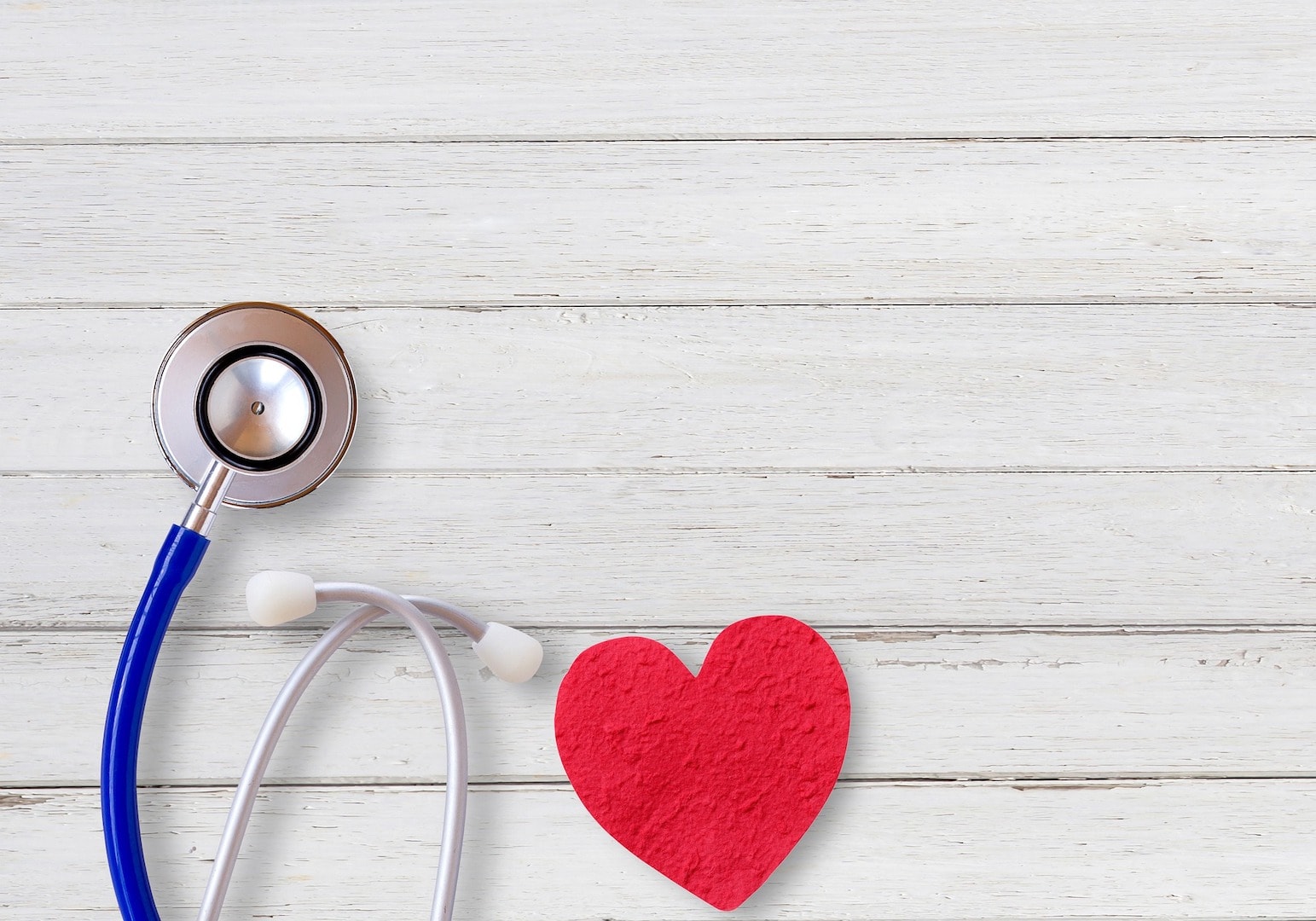 Did you know that June is Stroke Awareness Month?
The month of June is dedicated to stroke awareness. It is an opportunity to make as many people as possible aware of the dangers of this serious condition and the importance of prompt intervention when it occurs. (Hayward, 2017) Did you know that, according to the Montreal Neurological Hospital Institute, in Canada, a stroke occurs every 10 minutes? Of these, approximately 14,000 Canadians die each year, making it the third leading cause of death among Canadians. (Hayward, 2017)
Laurie Levesque, june 2022
What exactly is a stroke?
A stroke is a sudden neurological deficit of vascular origin caused by an infarction or hemorrhage in the brain. This stops the flow of blood to the brain. The term "stroke" emphasizes the sudden or abrupt nature of the symptoms.
Blood flow in the brain is essential because…
The brain needs a constant supply of oxygen and nutrients to function properly. Interrupting this supply can cause some cells to die. (Johns Hopkins Medicine, n.d.) In turn, cell death can lead to lasting brain damage, long-term disability, and even death. (Centers for Disease Control and Prevention, 2022)
Is there a difference between stroke and heart attack?
Absolutely! Stroke and heart attack are two very different conditions because they do not affect the same organ. Stroke is caused by a blockage or rupture of a blood vessel in the brain. A myocardial infarction (heart attack) is caused by a blockage in the coronary arteries that prevents enough oxygen from reaching the heart (Brunet, n.d.)
Is there more than one type of stroke?
Yes, there are three types of stroke.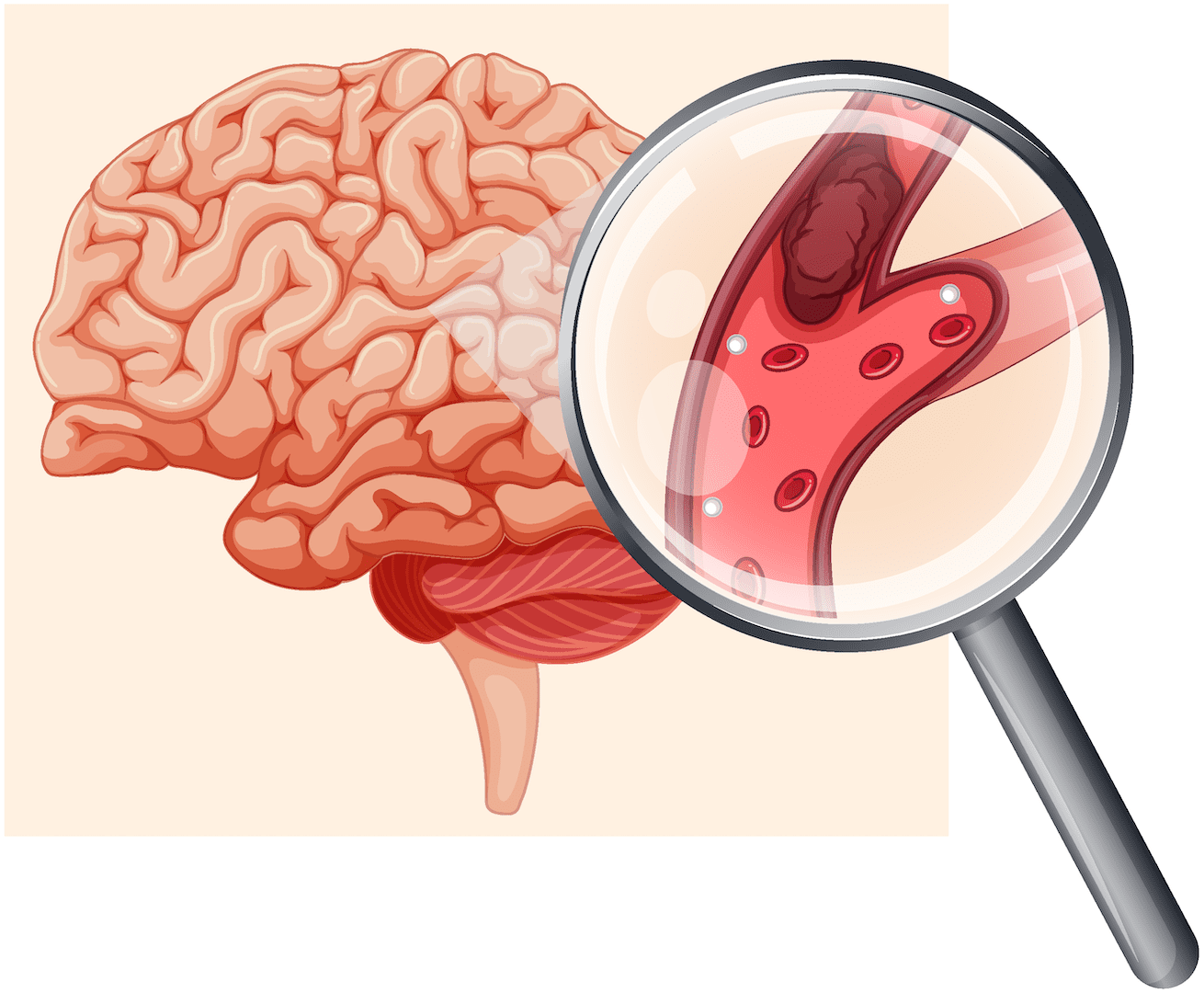 The term Ischemia refers to an interruption of blood flow to an organ (OQLF, 1999). Stroke is considered ischemic when it is caused by a blood clot that blocks a blood vessel in the brain. This is the most common type of stroke. (Heart and Stroke Foundation, n.d.(a))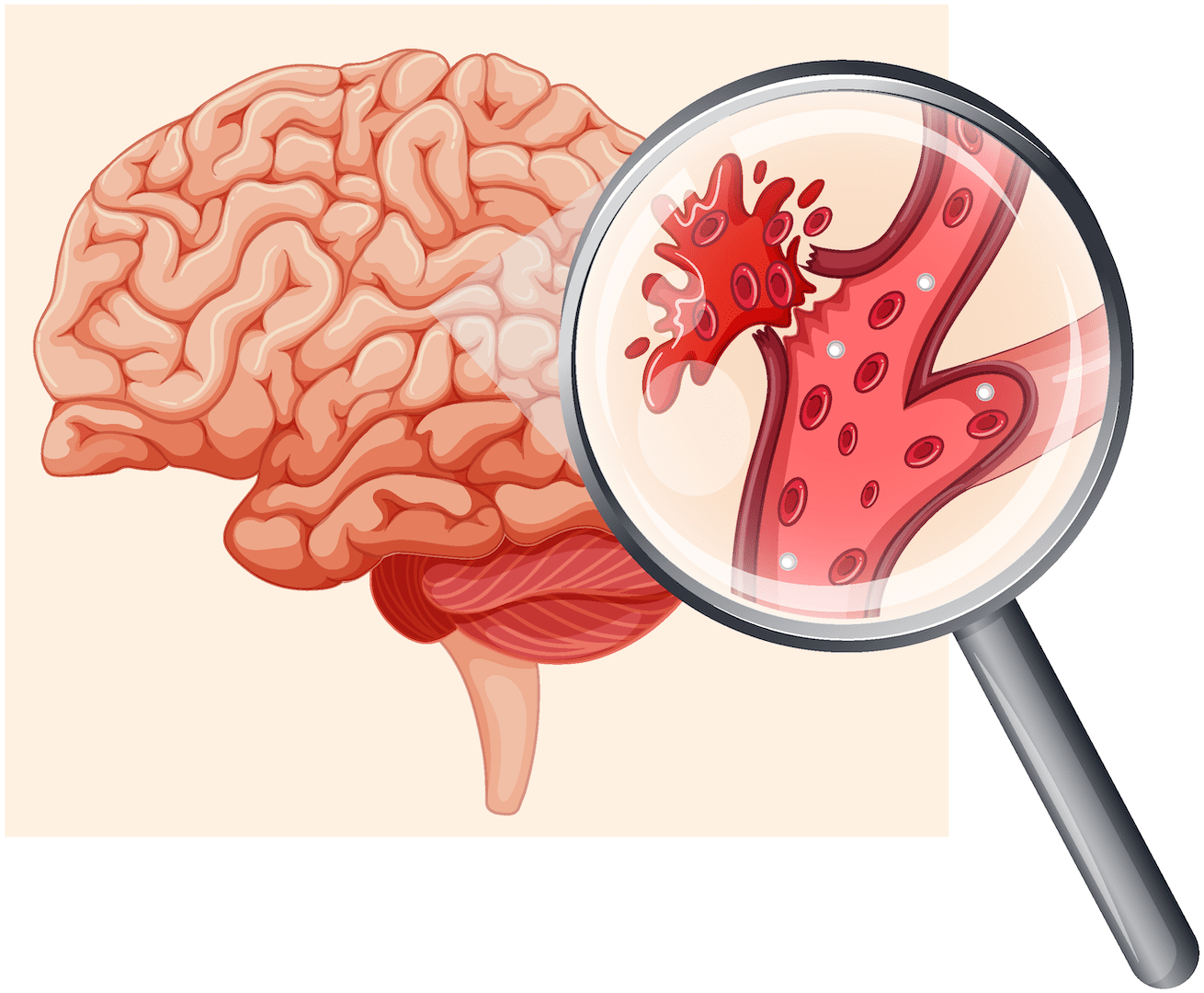 The term Hemorrhage refers to a flow of blood out of the blood vessels.(OQLF, 2019) A stroke is therefore described as hemorrhagic when it is caused by a rupture of an artery in the brain.(Heart and Stroke Foundation, n.d.(a))
In the literal sense, a mini-stroke is not a stroke. Rather, it is a Transient Ischemic Attack (TIA). TIA is an impairment of brain function due to a temporary interruption of blood supply to the brain that usually lasts less than an hour. (Chong, 2020) The causes and symptoms of TIA and ischemic stroke are identical. However, unlike stroke, TIA does not appear to cause permanent brain damage. In fact, the symptoms of TIA disappear completely and quickly, and very few, if any, brain cells die. In other words, the clot blocks the artery for less than an hour and the circulation eventually returns on its own without the need for medical intervention. However, it should not be underestimated or ignored. TIA can be a warning sign of an impending ischemic stroke. Recognizing a TIA, identifying the cause, and treating it can help prevent a stroke. (Chong, 2020)
What happens in the event of a stroke?
The main signs and symptoms of a stroke or TIA are the same for men and women. To identify them, look for one or more of the following signs:
Face – Is it drooping? Is there a deformity of the mouth?
Arms – Can the victim raise both arms at the same time?
Speech Impairment – Does the victim have slurred speech or difficulty with pronunciation?
Time to call 9-1-1 – Call for emergency services right away
(Source : Fondation des maladies du cœur et de l'AVC, 2021)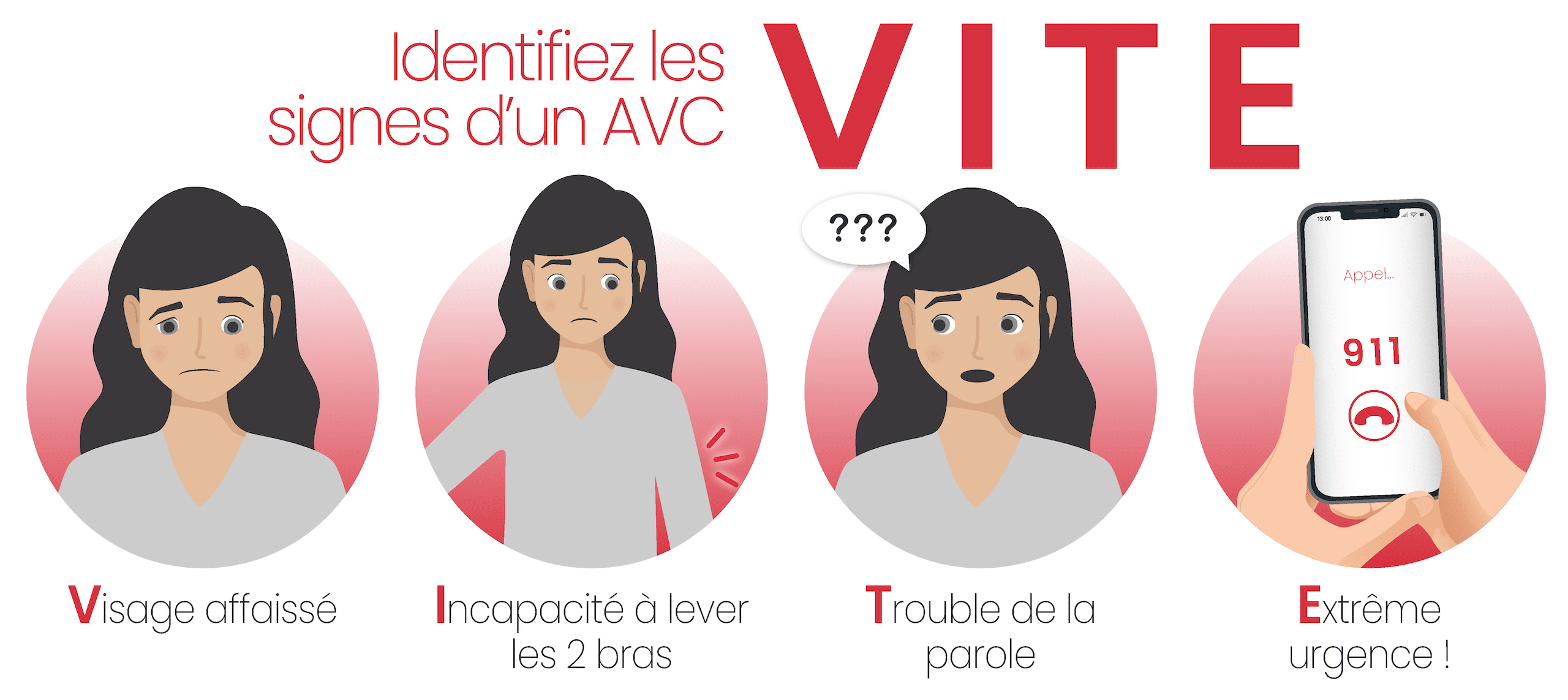 Although the FAST signs are the most common, they are not the only ones. The following signs are less common, but can also be precursors to a stroke or TIA:
Headaches that are sudden, intense and have no apparent cause. They look like sudden migraines and are accompanied by other symptoms.
Numbness or weakness usually located on one side of the body, but may also be located only in the face or leg.
Vision problems that result in double or blurred vision, or loss of vision in one or both eyes.
Dizziness that causes sudden difficulty walking, loss of balance or lack of coordination.

(Heart and Stroke Foundation, 2021)
Stop all activity, loosen clothing and place victim in a comfortable position.

Cover with a warm blanket or foil.

Call 9-1-1 immediately

Reassess vital signs regularly.
Whether the symptoms are persistent (stroke) or disappear quickly (TIA), it is essential to follow the same procedure.
Stroke treatment begins when pre-hospital emergency services arrive at the home. Upon arrival at the hospital, the medical team has three goals:
Stabilize your condition (breathing, heart function, blood pressure, bleeding, etc.)

Make a diagnosis (TIA, ischemic stroke or hemorrhagic stroke)

Implement treatment according to the type of stroke.
(Heart and Stroke Foundation, n.d.(c))
For ischemic stroke:
If the victim goes to the hospital within three hours of the first symptoms, he or she may get a type of medication called a thrombolytic, which breaks up clots. Those who receive this medication are more likely to make a full recovery from the stroke and are also less likely to need long-term care.
If the victim goes to the hospital after three hours, professionals may administer other medications, such as blood thinners, or perform surgery to remove the clot.
(Centers for Disease Control and Prevention, 2022)
For hemorrhagic stroke:
Several treatments to stop the bleeding and save brain tissue may be given, including medications, surgery or other procedures such as:
Endovascular procedures: these can help repair a weak spot or break in a blood vessel.

Surgical treatment: If the bleeding is caused by a ruptured aneurysm, a metal clip may be placed to stop the blood loss.
(Centers for Disease Control and Prevention, 2022)
According to the Heart and Stroke Foundation, the effects of a stroke can range from mild to severe and vary from person to person.
The severity depends on factors such as:

– The type of stroke (ischemic or hemorrhagic);
– The hemisphere of the brain in which the stroke occurred (left or right);
– The areas of the brain that were affected by the stroke;
– The extent of the damaged area of the brain;
– The functions of the body that are controlled by that area;
– How long the blood flow to the affected part of the brain was interrupted.
(Heart and Stroke Foundation, n.d.(a))
What are the risk factors?
Connaître ces facteurs de risques entourant l'AVC est essentiel, car cela permet de faire certains choix dans ses habitudes de vie qui aideront à les réduire. Certains de ces facteurs de risques sont malheureusement incontrôlables. Cependant, les connaître permet d'être conscient de son propre risque et d'être plus attentifs à sa santé et de surveiller les signes avant-coureurs.
Sex: Because of their distinct cardiovascular physiology and the multiple hormonal changes they experience over the course of their lives, some risks are specific to women. For example, the risk increases after menopause.

Age: The risk increases with age.

Family and medical history
First Nations heritage: Unfortunately, "First Nations, Inuit and Metis people have higher rates of high blood pressure and diabetes." (Heart and Stroke Foundation, n.d.(b))

African and South Asian heritage: Like people of First Nations heritage, people of African and South Asian heritage are at higher risk for high blood pressure and diabetes.
Adopting good habits to put all the chances on your side
No one is immune to stroke at any age. However, there are some things you can do to help reduce your chances. Actions such as watching your diet, limiting alcohol, avoiding tobacco and staying active are not recommended to keep you from getting bored. Taking care of your body and mind by adopting healthy habits can make all the difference.
Article written by Laurie Levesque, content creator for the Saint-Bernard Academy.
Edited and formatted by Emilie Bedard, Communications Manager.