Tips for a fun and safe Halloween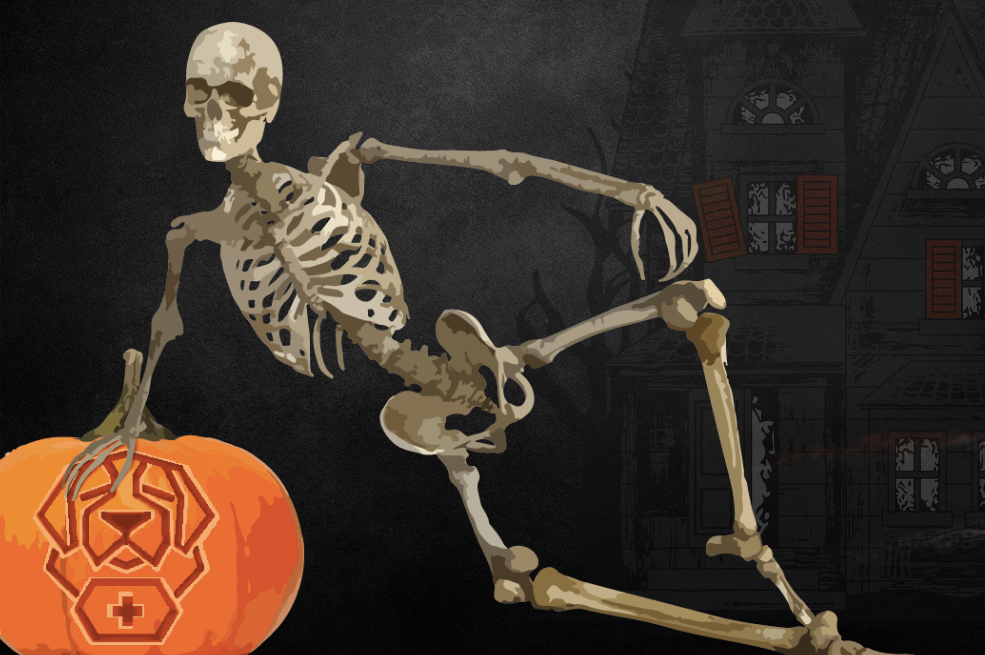 Halloween

, a tradition with a great history!
In a few days, the border between the world of the living and the world of the dead will be blurred, giving rise to various celebrations. For this occasion, we present you with an overview of the origins of Halloween in Canada. We also share some tips on how to celebrate while taking care of your health and safety, as well as some fun themed activity ideas.
Emilie Bédard & Laurie Levesque, october 2021 (updated in October 2022)
Halloween

in Canada : The union of Celtic and Christian traditions
Although there is no certainty about the origins of Halloween, many historians assume that it originated with the Celtic peoples of ancient Europe. For example, the tradition of Halloween in Canada is thought to have its roots in a Celtic festival called Samhain (pronounced "SOW-in").
According to the Celts, during the night of October 31, the period of division between the cycle where the days are longer than the nights and the one where the nights are longer than the days occurs. During this period, the separation between the world of the dead and the living becomes less pronounced, thus giving the souls of the dead, ghosts and demons the opportunity to pass to the side of the living.
In this tradition, certain practices, such as dressing up in costumes and making offerings, are said to ward off and soften evil spirits.
Its arrival in Canada dates back to the middle of the 19th century with the arrival of a large wave of Irish and Scottish immigrants. The traditions of Samhain were then combined with those of the Christian feast of All Saints' Day. Thus, the term Halloween is derived from All Hallows Eve, which can be translated as "the eve of all the saints".
Where does the famous tradition of

Jack-o'-lanterns

come from?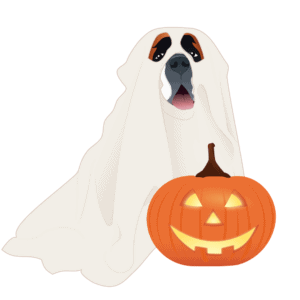 It is said to come from an ancient legend that tells the story of a mischievous and drunken man named Stingy Jack who outwitted the Devil twice. Legend has it that the Devil came down from Hell to punish him for his unacceptable behavior. Unfortunately, being cunning, Jack managed to keep the Devil prisoner by surrounding him with crosses. In order to be freed, the Devil had to promise Jack that he would never bother him again. Later, when the man died, Heaven didn't want him and, in Hell, neither did the Devil, since that was his promise. It is said that since that time, Jack wanders between the world of the dead and the living.
Thus, the population created Jack-o'-lanterns to keep wandering souls, like Jack, away. Thus, digging pumpkins to affix and light candles is used to protect one's home from evil spirits.
Have you heard of the "teal pumpkin project" initiative?
It makes the traditional trick or treating for Halloween more inclusive for children with allergies!
The initiative began in 2012 in the United States and was adopted in Quebec in 2015 by Allergies Québec. Basically, it encourages people to place a turquoise pumpkin in front of their house to indicate that they have non-food options and treats free of the 9 main allergens. This gesture of solidarity helps make Halloween more accessible and fun for allergic children (Vermette, 2016).
Tips to make sure your
Halloween
doesn't turn into an all-out horror movie
Now that you know its origins, isn't it tempting to make your own Jack-o'-lantern to protect yourself from the evil spirits that will come to haunt you on Halloween night? Since this activity can involve some risk of accident, here are a few tips to make sure your pumpkin carving doesn't end up in the emergency room.
Use a tool kit specifically designed for this activity to reduce the risk of injury.

For example, the small serrated saws in these kits are less likely to slip or get stuck in the pumpkin pulp than a non-serrated kitchen knife.

Prepare your space and work tools well.

Your space should be well lit and the work surface should be stable and flat. Nothing should be wet or damp to avoid anything slippery.
Carve out the pumpkin before emptying it so that you can't get your hand inside while cutting.

You may want to trim the pumpkin a bit at the base beforehand to ensure its stability.

Keep sharp tools away from little witches and ghosts. Cutting should be done by an adult.

Of course, that doesn't mean kids can't participate. They can help scoop out the pumpkin, draw the face patterns and decorate it.
Precautions for homeowners
Of course, there are certain actions that homeowners can take to ensure a safe Halloween!
Handing out candies and treats
Make sure the front of your house is well

lit

and the walkway is

clear

to walk through without the risk of tripping and getting hurt.

Have little non-food and/or non-allergenic surprises, such as fun stickers.

To avoid accidents (fear, allergies, escape), keep pets inside in a separate room.

In short, your pet may be stressed by the excitement of children. This stress could, for example, make it jump or even bite. Also, bright accessories and loud noises can scare it away.
Keep candy out of their reach, as it can cause serious health problems that can lead to death, such as kidney failure and seizures. Also, candy and wrappers can cause choking. ⁠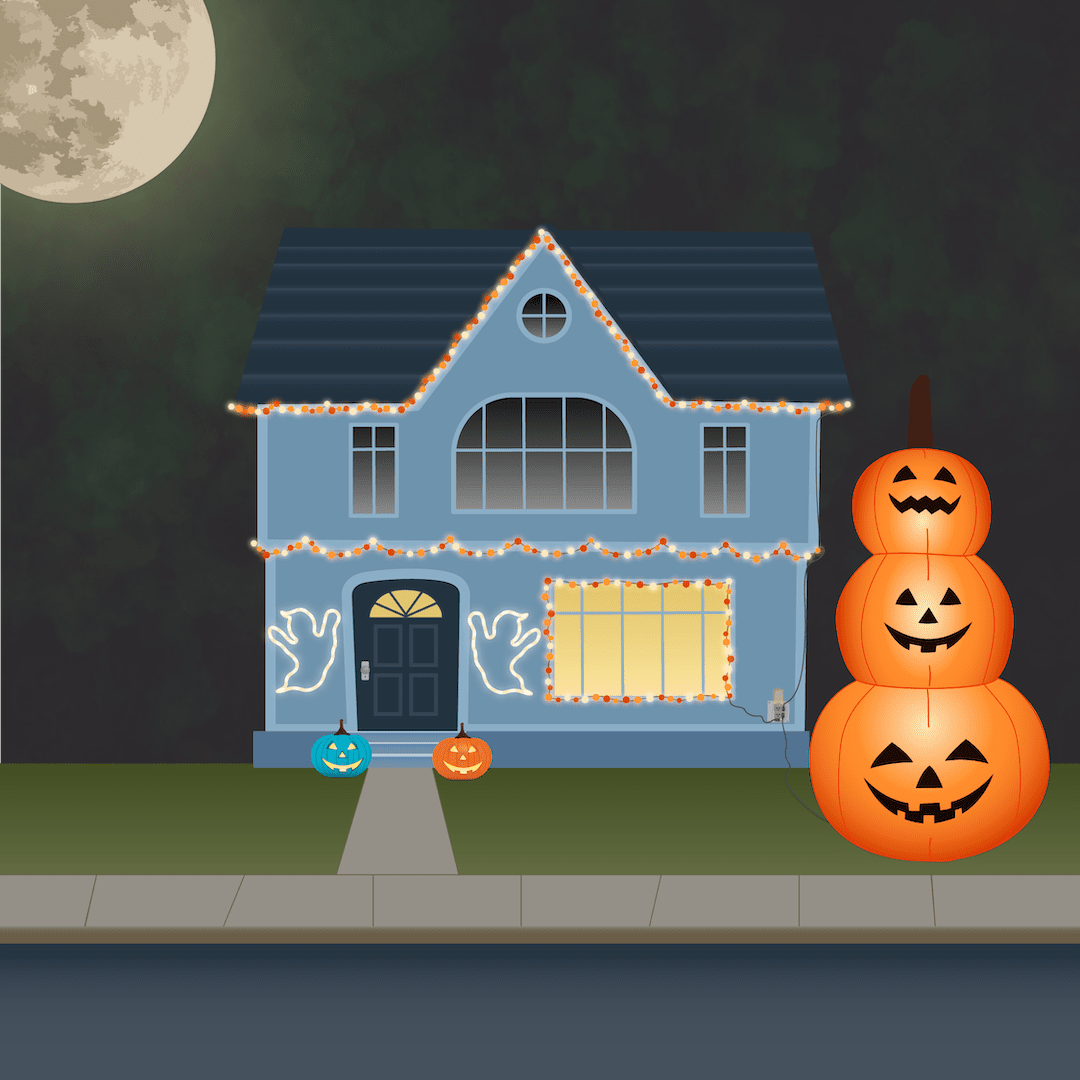 The previous tips for keeping your pets safe are also applicable in this situation. While it may seem fun to involve your furry friend in the festivities, it's not a good idea.

Use small battery-operated lanterns to light your pumpkins instead of real candles to avoid the risk of fire.

Driving while intoxicated is NEVER a good idea. Use a drive-through service, such as

Tolerance-Zero

, to ensure your guests get home safely.

Do not serve alcohol to underage guests to avoid liability for an accident caused by an underage drinker.⁠
How well do you know quick sugars?
Don't worry, we won't tell you to give up candies!
However, like all good things, it is wise to learn to moderate your intake. Being composed mainly of sucrose and, in some cases, glucose and fructose, the sugar in candy is quickly digested and absorbed by the blood. As a result, it raises blood sugar levels in no time. This doesn't mean you should trade in the candy your kids collect on Halloween night for apples. On the contrary, maintaining a predominantly healthy diet allows you to give them some sweets.
Here are some tips on how to maintain that balance and keep kids from gobbling up their

candies

in a flash:
Discuss it beforehand. In other words, talk about limits and determine with them how much they can eat.
VValue meals that contain a good source of protein, specially on Halloween night. Since protein is digested slowly, you increase the chances that they won't have much of an appetite when they get home from trick-or-treating.

After you get home

, let them pick out a few

candies

qto eat throughout the night. Then follow this same process to moderate the amount of candy they eat each day.
Check that responsible adults (teachers, caregivers, other parents, etc.) have the necessary information, such as;

the amount of candy that can be eaten, as well as what

treats

to avoid;

the right amount of insulin for the circumstances;

identifying the signs of hypoglycemia and hyperglycemia, and how to intervene;

Having the proper clothing to avoid getting cold and experiencing a drop in blood sugar.

Make sure the pump and meter are within reach despite the costume.

Have a plan to allow the child to enjoy some

sweets

during and after trick or treating without risk.
Ideas for festive activities in the comfort of your home
As you probably know, there's more to Halloween than just collecting candy. So here are some fun things you can do to celebrate at home.
Make a

piñata

filled with your favorite treats.

Plan a

scavenger hunt

and, for the brave, add some spooky traps like a haunted house trail.

Adapt

board games

to the theme of the day and exchange the points earned for treats. For example;

mime or draw the titles of your favorite

Halloween

movies and characters to get them to guess.

trivia about the history of the holiday and the different ways it is celebrated around the world.

Have a pumpkin decoration contest.

Practice your singing skills by doing a Halloween themed

Karaoke

.