Why get a defibrillator ( AED )?
Cardiac Science Powerheart G5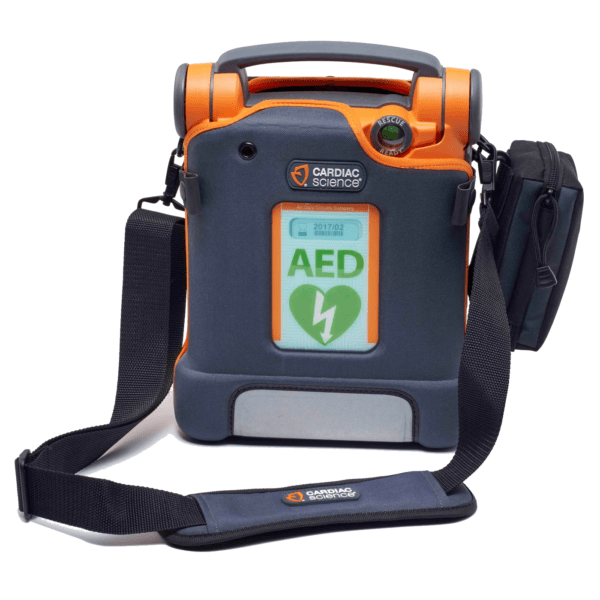 Eight (8) out of ten (10) cardiac arrests occur at home or in a public place
In Canada, heart disease is the second leading cause of death after cancer;
In the United States, more than 10,000 people suffer from cardiac arrest at work each year;
One in 10 survives;
Victims are almost four (4) times more likely to survive if a witness performs CPR without delay;
When the heart stops beating, blood does not circulate in the body. Brain death can begin in as little as three (3) minutes.
In case of cardiac arrest, every minute counts
The chances of survival decrease by 10 to 12% every minute without defibrillation;
After 10 minutes, the victim is unlikely to survive sudden cardiac arrest;
Cardiopulmonary Resuscitation (CPR) allows this period to be extended;
Defibrillation is the only treatment for someone who has sudden cardiac arrest;
When a shock is administered in the first 3 minutes after sudden cardiac arrest, the chances of survival can reach 75%.
Causes of sudden cardiac arrest
Most cardiac arrests are caused by arrhythmias (characterized by an irregular heartbeat), which may not have been diagnosed;
Cardiac arrest can also be triggered by:

Coronary artery disease;
A heart attack;
Congenital heart disease;
Electrocution, drowning, choking, trauma, respiratory distress;
Drug use for recreational use.
Who is at risk?
Cardiac arrest can occur:

At any age ;
At all times ;
It does not matter the physical form of the person;
Without warning.
Three ways to prepare for sudden cardiac arrest in the workplace
Deploy AEDs in your organization, campus or vehicles. Early defibrillation is the only treatment for sudden cardiac arrest. Give your employees the means to help save lives;
Implement a safety plan to respond to sudden cardiac arrest. The Saint-Bernard Academy can train and maintain your entire DEA implementation program as well as the training of rescuers in CPR;
Trust the experts. Saint Bernard Academy offers the best AED available on the market and deep expertise to help your employees save lives wherever they are.